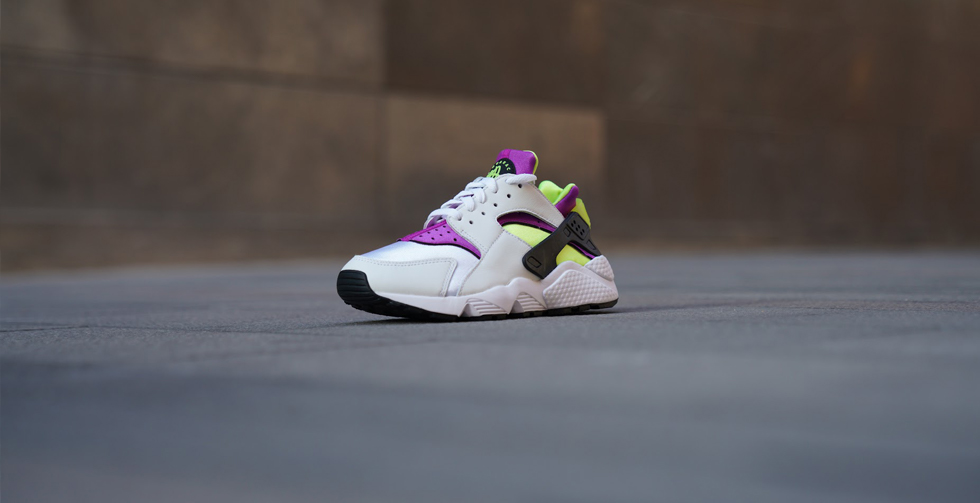 Nike Huarache
611 articles
How a water ski boot inspired one of Nike's most beloved sneakers.
Air Huarache
One day, while Nike designer Tinker Hatfield was water skiing, he was impressed by how his ski boots' neoprene construction supported and accommodated his feet. Being a visionary of design, Hatfield naturally wanted to experiment with the material and see if he could incorporate it into Nike sneakers.
What resulted from Hatfield's tinkering was the first running shoe to incorporate neoprene through its Dynamic Fit technology. The fit of the Nike Huarache was so different from any other sneaker gone before that Nike launched with the slogan: "Have You Hugged Your Foot Today?" leaning into all the semantic interpretations of a hug: support, warmth, and its comfort. The neoprene also reduced its weight to roughly 9.5 oz., making it the lightest running shoe ever. With the heel counter removed, support was found in a rubber strap at the achilles. Elsewhere across the shoe, a thermo-plastic exoskeleton entwined with panelling ensured rigidity, while comfort in the memory foam sockliner was needed for endless pavement-pounding. All this culminated in a running shoe at the height of performance technology in 1991 when it launched.
The neoprene shell is given full visual display through a sparse caged structure that houses it, aligning with their belief that minimalism was the aesthetic future of sneakers. This definitive, slatted-look compelled Nike to name it "Huarache" after a sandal traditionally worn in Mexico. The merging of traditional Mexican and the future of American footwear resulted in a shoe so unconventional and utterly unique that Hatfield believed it could do without the Nike swoosh, suggesting that only Nike could execute such a wild idea.
A prototype was forged and Sandy Bodekker, who was Nike's director of product development, and would go on to form Nike SB said it was a shoe that could've only been worn by gods. It was all looking so positive for the Nike Huarache. That was until, the samples were presented to store managers and not one of them said they would place an order. It seemed not everyone agreed with Sandy and the silhouette was almost canned before it had even set flight. If it wasn't for a particularly rebellious product manager by the name of Tom Hartge ordering 5,000 Huaraches (despite not having the appropriate sign-off) the shoe might never have seen the light of day. Hartge went to the New York Marathon with the 5,000 Huaraches to sell. Three days later, they were all gone, demand was ignited, and store managers eventually converted their previous scepticism into orders of up to half a million pairs.
As a part of their promotion, US Olympic gold medallist sprinter, Michael Johnson, appeared in a famous 1991 advert which pushed the Huarache to a much wider recognition. Very quickly the revolutionary Nike Air Huarache morphed, mutated and evolved into other sporting arenas. The cross-trainer version in high-top form came with an extra upper strap, giving it a uniquely sparse and minimal design. Next it was the domain of the basketball court.