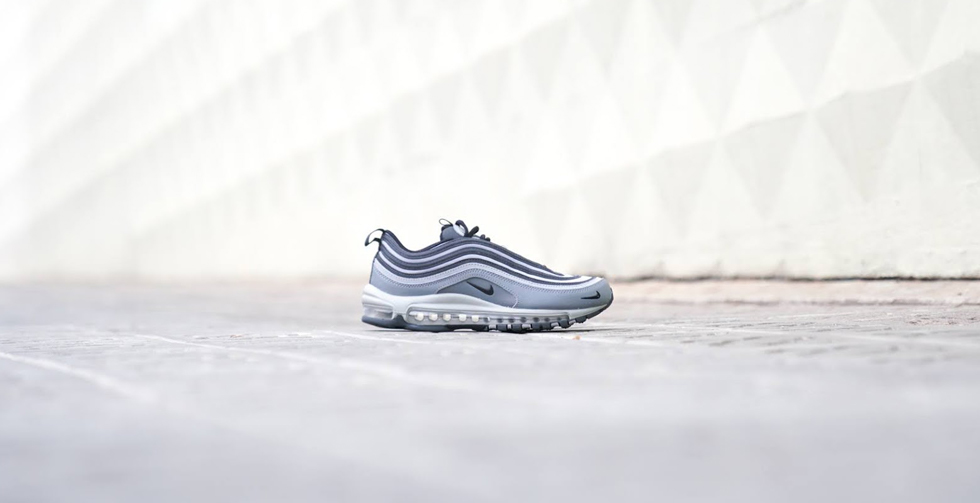 Nike Air Max 97
568 articles
The shoe inspired by a droplet of falling water that sent a ripple through sneaker history.
Air Max 97
In the late nineties, sport, fashion and entertainment were all booming. Nike was doing well too, and it was time for them to start working on the next Air Max model. It was ten years since the launch of the first Air Max, and the subsequent releases had made the line desirable beyond the running community. Now worn by celebrities as well as the general public, expectations increased with each new design as the creators had to produce something even more impressive than previous models. This put added pressure on designers, and two of those appointed to Nike's latest project could not come up with anything that met the brand's high standards. Nevertheless, Nike persevered, selecting Christian Tresser as the man to create the newest iteration of the Air Max – the Nike Air Max 97.
Before joining Nike, Christian had already gained experience designing football boots at the highest level. Starting his work for the brand in 1996, he set about building a good reputation during his collaboration on a football boot in the Air Zoom GX project, which led to the creation of Nike's first ever synthetic boot, the Mercurial. With this achievement and a lead design job on the Air Zoom Spiridon behind him, Tresser began work on the Air Max 97. Before he started, however, Nike gave him a simple message: this shoe will define your career. And so it did.
Designed as a running shoe, the Nike Air Max 97's primary innovation was an extension of the visible Air that had graced previous versions. It became the world's first trainer with an Air unit that could be seen across its entire length. This cushioning bed was also foam-free, distinguishing it from prior Air Max designs, all of which had included some use of foam. Tresser was, in fact, highly selective about the materials used on the Air Max 97. Its new ventilated panels were made of a tough mesh in a mechanical style, so the shoe was even more breathable than its predecessors. It also featured 3M reflective strips on the upper with a unique unbroken linear style. These flowing wave-like bands were inspired by the natural rippling effect created when a droplet falls into water. They lent the upper a smooth aesthetic that was also to be found in Nike's new lacing structure. This clever system hid the eyelets inside the shoe – something which had never been done before – giving it a sleek look.
First released in 1997, the Air Max 97 launched in a Metallic Silver colourway derived from Tresser's interest in cycling. An admirer of contemporary mountain bike designs, he used effects similar to polished titanium and other metallic tones across the shoe. This colour scheme also gave a nod to the super-fast bullet trains of Tokyo, whose shiny silver appearance resembled that of the AM97, earning it the moniker "Silver Bullet".
Being associated with such a revolutionary technology brought the Air Max 97 plenty of attention, and its fame was boosted further by two important occurrences. Firstly, it was endorsed by legendary Olympic athletes Michael Johnson and Carl Lewis. Secondly, the design made its way to Italy, where it rapidly grew in popularity. The sneaker's unique appearance appealed to a number of different subcultures and was adopted by several luxury brands, eventually ending up on the catwalks of the Milan fashion scene the year after its release. With this approval, the 97 became admired across the whole country, where it was given the nickname "Le Silver".
These events marked the Nike Air Max 97 out as a masterpiece, making it popular in the United States and abroad. On its own, the 97 felt both retro and futuristic. While these characteristics alone were enough to bring it success, its remarkable harmony between performance and design made the model even more renowned. With attributes like this, the Air Max 97 distinguished itself as an influential shoe that would go on to become an iconic silhouette in Nike's sneaker history.